Egyptian and Israeli neuroscientists striving for peace
Ahmed El Hady and Yonatan Loewenstein, two neuroscientists from Egypt and Israel respectively, are striving to bypass preconceptions, and create interpersonal and professional connections between Arab and Israeli Neuroscientists.
Adam Evenhaim , YNet News, September 9, 2015

There is life beyond the conflict. That is the message that Egyptian neuroscientist Ahmed El Hady and his Israeli counterpart Yonatan Loewenstein are attempting to convey through a series of joint Arab and Israeli scientific workshops, the second of which is currently underway in Paris, including seven Arab and seven Israeli participants.
The two neuroscientists first met on the sidelines of a scientific conference in 2013 in Germany, with Loewenstein inviting El Hady to Israel.
"In 2014 I gave a guest lecture at the Hebrew University," El Hady told Ynet. "One of the professors there came up to us after the lecture, and we came up with the idea of hosting a joint neuroscience workshop for Arab and Israeli scientists."
The two quickly managed to organize the first conference titled NeuroBridges later that year, with the stated goal of "bringing together Arab and Israeli neuroscientists in order to promote scientific collaborations and develop personal relationships which could alleviate political distress."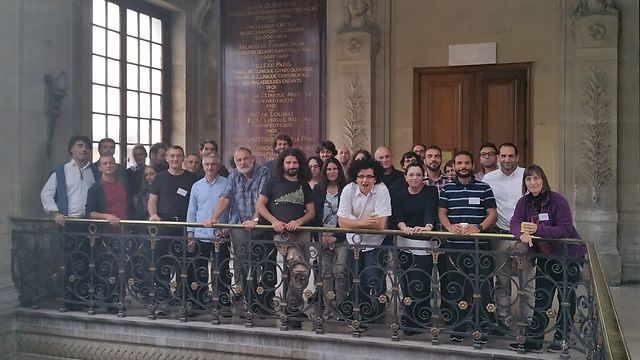 NeuroBridges particpants in Paris (Photo: Ahmed El Hady)
In a conversation with Ynet, Loewenstein said he believed that, "Ties between Israelis and Arabs don't have to revolve only around the conflict."
The initial conference took place during operation Protective Edge last year in Germany, and included participants from Israel, the Palestinian territories, Jordan, Egypt, and Syria.
According to Loewenstein, the fear of possible reactions at the height of tensions sparked by the operation forced the conference to minimize exposure, "We really tried to keep a low profile; we kept the conference closed to the media."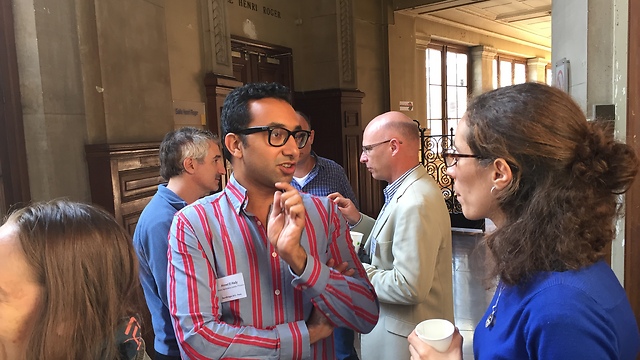 Ahmed with the particpants in Paris (PhotoPhoto: Ahmed El Hady)
Finding participants wasn't easy, Loewenstein said. "The Arab participants were taking serious risks; open ties with Israelis can pose risks to their professional livelihoods in their home countries."
"We aren't politicians, we can improve the situation through personal ties," he concluded.
Ahmed echoed the sentiment saying he was well aware of the academic boycotts that are currently gaining traction, but disputes the methodology. The first conference really proved that "Arabs and Israelis can communicate, argue, cooperate and collaborate even in the presence of a war situation," he concluded.
The duo has managed to build on the success of the first workshop, with the second NeuroBridges workshop currently taking place in Paris. The Arab, Israeli, and French participants in the three-day workshop are set to discuss state-of-the-art science and methods, with the aim of not only promoting science, but also establishing scientific connections between Israeli and Arab Scientists