Hamas' revamped naval commandos could pose a problem for Israel
Although all unit members were killed during last summer's infiltration attempt at Zikkim, Hamas viewed this as a massive achievement and subsequently trained a new force whose role will be to carry out mass attacks on the Israeli home front.
Alex Fishman, YNetnews, March 14, 2015
Palestinian Islamist organization Hamas has completed the reconstruction of its naval commando force, consisting of dozens of trained divers, in order to hit strategic sites, Israeli and others', in the Mediterranean Sea.
With the development of its underwater unit, Hamas aims to compensate for the failure of the offensive tunnels from the Gaza Strip, which it rules, which were supposed to reach into Israel. From just a handful, the force has grown into many dozens of fighters trained to strike the Israeli home front via abductions and killings.
Hamas's operational approach sees the naval commandos as one long "tunnel", extending from Gaza in Israel's south to Rosh Hanikra in the north, through which it could hit any target along the entire Israeli coast. These could be strategic objectives such as power plants, coal terminals, gas rigs and so on. However, using Operation Protective Edge as a model, it seems that Hamas is training its commandos to create a continuous shockwave for Israeli society through the mass murder of civilians and soldiers.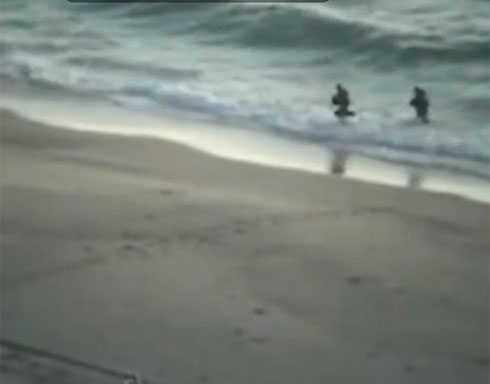 Hamas' infiltration attempt at Zikim during Protective Edge (Photo: IDF)
The Israeli defense establishment sees the strengthening of Hamas' underwater activity – through the establishment of a large and professional commando unit – as one of the main lessons Hamas took from last summer's conflict.
The Hamas commandos' successful penetration a kilometer deep within Israeli territory, near Kibbutz Zikkim, is one of the organization's major achievements during the 50 days of fighting, as this was the only time when Hamas special unit members managed to infiltrate Israel. If not for Israeli intelligence, it is likely the commando unit would have been able to penetrate the community or a nearby IDF base and carry out the mass murder it wanted.
Related articles:
Earlier this week, Egyptian newspaper "Al-Akhbar" reported that the creation of the naval commando unit was intended to harm Egypt's facilities in the Mediterranean. The Egyptians, who have signed a gas deal with Israel, are worried about damage to the Tethys Sea group's installation, while accusing Hamas of conducting sea-based attacks on Egyptian naval forces.
In November 2014, an Egyptian patrol boat was attacked as it conducted an operation against smuggling from the Gaza Strip. The attack was carried out by three rubber boats in the Egyptian Delta, near the port of Damietta. The perpetrators seized control of the ship, killed 13 Egyptian soldiers and hoisted the Islamic State flag.
The Egyptians blamed Hamas for supporting and being party to attacks of this kind, and significantly changed the security measures on their ships. Even the commands to open fire have changed, and the Egyptians shoot to destroy Gazan fishing boats that approach them without prior coordination.
In light of the accusations, Hamas leader Mahmoud Zahar was quick to issue a denial in the Al-Quds newspaper, saying that Hamas was not planning to wave underwater warfare in the area.
It was until Operation Pillar of Defense in November 2012 that the Hamas naval force was viewed as amateurish. But since that operation, Hamas was been working on setting up a large professional unit – its people were sent abroad for training, most likely to Iran, and it procured military-grade diving equipment.
During last summer's infiltration at Zikkim, Israel registered the use of military standard systems, which prevent bubbles from surfacing during a dive. Hamas also has a small underwater craft, known as a "scooter", for individual divers, and has even published pictures of them for propaganda purposes. It appears that following the collapse of diving tourism in Sinai, the club owners were happy to sell some advanced diving equipment.
The training of the reinvigorated commando unit is largely reminiscent of the training for elite units in conventional armies, including the ability to withstand physical and mental pressure that is customary within professional naval commando units in the region.
The defense establishment and the IDF are preparing for an increased threat from this underwater force. It should be noted that during Protective Edge, this unit only sustained partial damage, and in any future conflict its infiltration efforts will be a force to be reckoned with for Israel.