Brain Wired in an 'Astonishingly' Simple Grid Structure
Megan Brooks
April 5, 2012 — A new brain imaging study shows that the human brain is wired in a simple and orderly 3-dimensional grid, akin to a checkerboard, with no diagonal paths.
"Far from being just a tangle of wires, the brain's connections turn out to be more like ribbon cables — folding 2D sheets of parallel neuronal fibers that cross paths at right angles, like the warp and weft of a fabric," Van J. Wedeen, MD, from Massachusetts General Hospital (MGH), the Martinos Center for Biomedical Imaging, and Harvard Medical School in Boston, explained in a statement. "This grid structure is continuous and consistent at all scales and across humans and other primate species," he added.
The highly detailed images were obtained with the Connectom diffusion magnetic resonance imaging (MRI) scanner installed at MGH's Martinos Center for Biomedical Imaging last fall. The scanner can visualize the networks of crisscrossing fibers in 10-fold higher detail than can conventional scanners.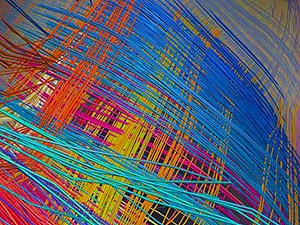 Detail from DSI scan shows fabric-like 3-dimensional grid structure of connections in monkey brain. Van Wedeen, MD, Martinos Center and Department of Radiology, Massachusetts General Hospital and Harvard University Medical School
"This one-of-a-kind instrument is bringing into sharper focus an astonishingly simple architecture that makes sense in light of how the brain grows," Dr. Wedeen said.
Their report is published online March 30 in Science.
A Landmark in Human Neuroanatomy
In a statement, Thomas R. Insel, MD, director of the National Institutes of Mental Health said, "Getting a high resolution wiring diagram of our brains is a landmark in human neuroanatomy. This new technology may reveal individual differences in brain connections that could aid diagnosis and treatment of brain disorders."
As reported in the Science paper, Dr. Wedeen's team scanned the brains of living humans and the postmortem brains of 4 types of monkeys: rhesus, owl, marmoset, and galago. They found that the wiring of the mature brain appears to mirror 3 primal pathways established in embryonic development.
During early development, the researchers explain, the brain's connections form along perpendicular pathways, running horizontally, vertically, and transversely. This grid structure appears to guide connectivity as do lane markers on a highway. This structure may help enforce a more efficient, orderly way for the fibers to find their proper connections, and for the structure to adapt through evolution, the researchers say.
Obtaining highly detailed images of these pathways in the human brain has long eluded scientists, in part because the many folds, nooks, and crannies in the human cortex obscure the structure of its connections.
Dr. Wedeen's team is part of the Human Connectome Project Harvard/MGH-University of California, Los Angeles, consortium that aims to optimize MRI technology to more accurately and precisely image the human brain.
Converging Lines of Evidence
This paper is "very interesting," Olivier Coulon, PhD, CNRS research fellow in the Laboratory for Information Science and Systems in Marseilles, France, told Medscape Medical News. "To my knowledge, it's the first that reports such organization at the whole brain level," he pointed out.
The findings are consistent with observations made in a previous paper, he said, "although in that paper only the medial frontal cortex was studied and the orthogonal organization of fibers was described at a gross scale without any notion of the fine grid described by Wedeen et al."
"What is interesting," he added, "is the fact that it is consistent with how we think cortical sulci or folds are organized. There have been a few papers describing the cortical folds as organized according to an orthogonal grid.
"We recently published a short conference paper in which such organization becomes clearer thanks to a flat angle-preserving projection of the cortex on a rectangular domain," he added. "A longer paper should follow this year."
"All these papers," Dr. Coulon said, "are converging to propose evidence that there is a genetically-driven organization, which could help to find an invariant structure beyond the apparent great variability of the brain (cortex and fibers). Developmental studies and the improvement of fetal MRI acquisitions should help to clarify all these ideas in the future," he concluded.
Dr. Coulon is principal investigator in the BrainMorph Project, which is funded by the French Agence Nationale de la Recherche and dedicated to the development and validation of surface-based brain morphometrics methods.
Dr. Wedeen's research was funded by grants from the National Science Foundation, the National Institutes of Health, and the Human Connectome Project. The authors have disclosed no relevant financial relationships.
Science. Published online March 30, 2012. Abstract
Medscape Medical News © 2012 WebMD, LLC
Send comments and news tips to news@medscape.net.