Is EU serious about supporting human rights across north Africa?
The EU has ignored democracy, freedom and human rights abuses in Libya and other north Africa states in the past. If it is really serious about helping them now, it will invest as much in development as border controls
Posted by Vittorio Longhi Friday 25 February 2011 10.59 GMT guardian.co.uk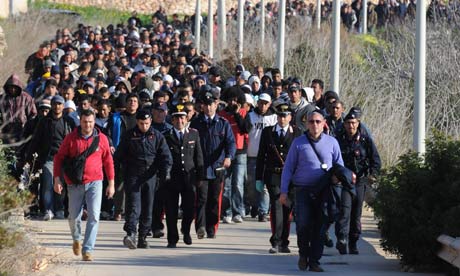 Would-be migrants from Tunisia arrive at the refugee camp on the southern Italian island of Lampedusa. Photograph: Ciro Fusco/EPA
All of a sudden, the EU seems to realise that the social conflict spreading across its southern border cannot be ignored, and seeks to provide a response to the upheavals that are taking place from the Maghreb to the Middle East.
EU leaders are showing all their will to assist the region with reforms that would secure stability and would also help to prevent new immigration flows to Europe.
As a "clear signal of European solidarity", this week EU home affairs commissioner Cecilia Malmstrom decided to send a mission from the European agency for border control, Frontex, to the Italian island of Lampedusa, where about 6,000 migrants, mostly Tunisians, have arrived in the last two weeks.
Meanwhile the EU high representative for foreign affairs, Catherine Ashton, has called a high-level international conference to develop a co-ordinated global response to the changes in the region. The EU assistance plan is focused on five institutional areas, which, according to Brussels, are essential for "deep democracy-building", such as electoral reform, support for civil society, independent judiciary, a free press, and the fight against corruption.
On the bloody repression in Libya, Ashton said on Tuesday that the EU was suspending a framework trade agreement that it had been negotiating with Tripoli. "I deplore the loss of life and I condemn all acts of violence," she said, calling on everyone to exercise restraint and making economic assistance much more conditional. She emphasised that the EU was "built on democracy, freedom and human rights".
However, it is questionable whether the EU has been so concerned for democracy, freedom and human rights in these north African countries in recent years.
The EU has backed authoritarian regimes and dictators such as Muammar Gaddafi as a trade-off for stability in the region and for a better control of immigration flows across the Mediterranean, since Libya is the main country of transit for many African migrants and asylum-seekers.
Regardless of any concrete measure aimed at helping development in the African countries particularly hit by poverty and conflicts, in October 2010 the EU home affairs commissioner Cecilia Malmström signed an agreement with the government of Libya, granting €50m in three years for the upgrade of its border surveillance and for new laws on refugee protection, since Libya has not yet ratified the 1951 Convention of Geneva on refugees.
Human rights groups and UN agencies questioned whether the Libyan government would really stop random arrests, torture and deportations of asylum-seekers fleeing from Somalia, Eritrea and Darfur, and whether the agreement was not just a way to push back migrants from Europe.
Besides that, the EU has totally ignored the social impact of the global economic crisis on African countries and the potential outbreak of conflict. In March 2009, the international immigration analyst Arno Tanner warned that in Africa "the mixture of rising food prices, increasing difficulty to secure international loans, deteriorating export avenues, and shrinking labour markets will cause brain drain, societal unrest, and conflict".
Similarly, the Nobel laureate Joseph Stiglitz called on western governments to assist developing countries in these times of crisis. Stiglitz claimed that this was more than a question of responsibility or even humanitarianism, but a question of self-interest, simply because "there cannot be a robust recovery for the global economy if there is a significant part of the world that remains weak".
And yet, since the beginning of the recession, the EU has failed to adopt any valid common policy aimed at preventing further impoverishment, social conflict and emigration from Africa. And individual European countries have followed a rather blind policy of cuts to aid and assistance to developing nations, of pay-to-go schemes for resident migrant workers and of push-backs of migrants and asylum seekers in the Mediterranean, towards Libya.