The Kever Rochel Controversy
Part I.‭ ‬Background:‭ ‬Brother vs.‭ ‬Brother
By Israel Zwick,‭ ‬February‭ ‬24,‭ ‬2014
Many Israelis often refer to their Arab neighbors as‭ "‬cousins.‭" ‬This is because they are believed to be descendants of the biblical Ishmael,‭ ‬half brother of Isaac,‭ ‬both sons of Abraham.‭ ‬It is truly regrettable that this conflict between‭ "‬cousins‭" ‬has endured for so long with no end in sight.‭ ‬When the conflict erupts into violence,‭ ‬it is inspiring to see the‭ "‬achdut‭" ‬or unity among the Israeli brothers working together and helping each other to survive the violence.‭ ‬However,‭ ‬when the violence is latent as it is now,‭ ‬we often see conflicts arise between brother and brother.‭ ‬The daily newspapers in Israel are replete with disputes between the secular and religious,‭ ‬the left and right,‭ ‬the Ashkenazim and the Sephardim,‭ ‬the workers and the managers,‭ ‬to‭ ‬name just a few.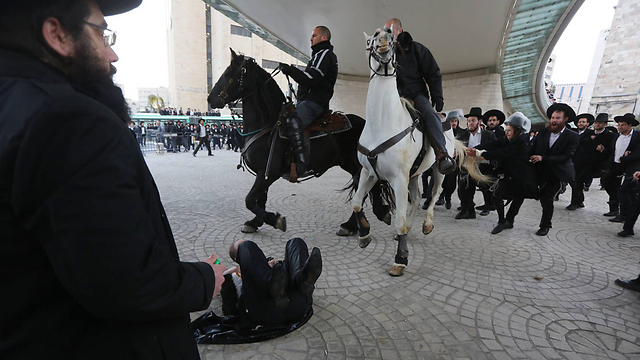 Brother vs. Brother. Recent Jerusalem protest; clashes and arrests were reported. (Photo: Gil Yohanan)
One might understand how disputes may arise between different ideologies and interests such as the secular and religious.‭ ‬However,‭ ‬it is truly incomprehensible when brothers with similar ideologies,‭ ‬interests,‭ ‬and goals are in conflict.‭ ‬Then their efforts and resources become directed more to the conflict than to achieving their common goals.‭ ‬This is what is happening now in the conflict between Evelyn Haies and Rabbi Benny Elon over three small properties adjacent to Rachel's Tomb in Bethlehem.‭ ‬Each of the protagonists is passionately devoted to reclaiming the Jewish presence in the area of Kever Rochel,‭ ‬as it is known in Hebrew,‭ ‬and developing educational and religious activities at the site.‭ ‬Yet for the last few years,‭ ‬they have been devoting their resources battling each other in court cases in Israel and New York over the rights of ownership and management of the properties.‭ ‬The cases are still ongoing with no resolution on the horizon.‭ ‬In the meantime,‭ ‬development of the properties is at a standstill,‭ ‬and has even regressed somewhat from damage to the property.
I know Evelyn Haies personally.‭ ‬I met her about eight years ago when I rented an apartment in her neighborhood in Arzei Habirah.‭ ‬I frequently took my grandchildren to the playground there,‭ ‬and I often encountered Evelyn as she passed through.‭ ‬She was eager to engage me in conversation,‭ ‬mostly about her activities involving Kever Rochel.‭ ‬It was obvious that she was passionate about the cause and devoted considerable resources in time,‭ ‬effort,‭ ‬and money to organize educational and religious activities at her Beit Bnei Rachel site adjacent to Kever Rochel.‭ ‬She had big plans for developing the site and tried to get me to become involved.‭ ‬I was impressed by her efforts to reclaim a Jewish presence at one of Judaism's holiest sites,‭ ‬but at the time I had other obligations that were more urgent.
I once visited Evelyn in her modest home which was simply furnished even by Israeli standards.‭ ‬She didn't own a car and traveled frequently to Kever Rochel with the‭ ‬#163‭ ‬bus from Shmuel Hanavi.‭ ‬She still carries an outdated cell phone with an old battery that needs frequent recharging.‭ ‬Yet,‭ ‬she contributed over‭ ‬$500,000‭ ‬towards the purchase of the three parcels adjacent to Kever Rochel.‭ ‬Apparently,‭ ‬this represented a major portion of her total assets.‭ ‬She explained that she lives by the motto,‭ " ‬A penny saved is a penny LOST,‭" ‬because she wanted to see her money doing something useful rather than sitting in a bank.