Beit She'arim declared World Heritage Site
UNESCO announces the Mishnaic period village with its 30 burial caves is to be the ninth Israeli World Heritage Site; Rabbi Yehuda Hanasi, the Mishnah's chief redactor resided and is buried there.
Itamar Eichner, Ahiya Raved, Roi Kais, YNet Ndws, July 5, 2015
UNESCO's World Heritage Conference on Sunday declared the national park at Beit She'arim in the lower Galilee a World Heritage Site.
Beit She'arim was a prosperous settlement during the period of the Mishnah's redaction (1st to 3rd centuries ACE) and the site includes 30 burial caves where rich people and scholars of the period, including the chief redactor of the Mishnah, Rabbi Yehuda Hanasi, were buried.
Beit She'arim is the ninth site in Israel to be recognized by UNESCO as a World Heritage Site. Of the 21 members, 17 countries voted in favor – India, Turkey and Senegal – and four countries actively opposed – Lebanon, Qatar, Algeria and Malaysia.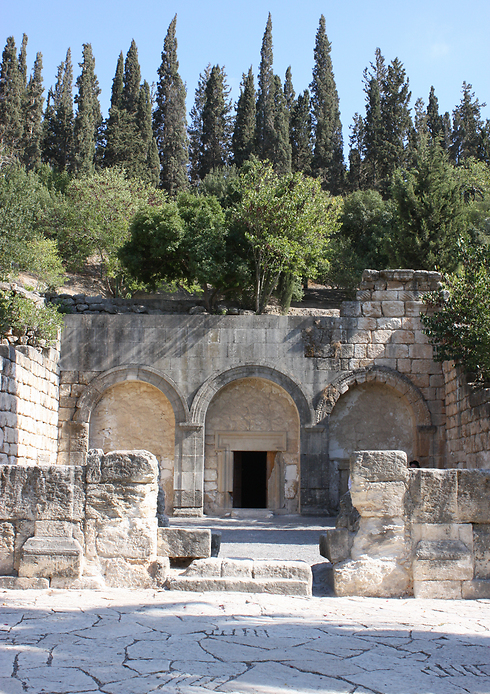 Entrance of the Cave of Coffins, Beit She'arim National Park (Photo: Israel Nature and Parks Authority)
Beit She'arim was considered to be the regional grain storehouse during the Mishnaic period. According to the historian Josephus Flavius, these were the barns of Queen Berenice, the sister of Agrippa II, who ruled the country under the Romans in the first century AD.
Rabbi Yehuda Hanasi lived most of his life in Beit She'arim, only spending the last 17 years of his life in the not-far village of Tzipori. In his last will and testament, he asked to be buried in Beit She'arim, which turned the village during the 3rd century ACE into the Jewish necropolis (city of the dead) of its time.